Plant Your Flag
The Warriors Battle Guide To Life, Love & Leadership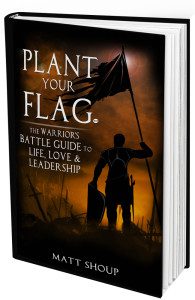 This book hits the shelves in June 2015.  Get it before it anybody else does, and I will be sending you some very cool FREE add ons, bonuses and gifts!
Follow the two steps below.  First, buy the book.  Second, fill out a form so I can send you an explanation of the FREE gifts and how and when you will get them.
Step One: Pre-Order  Book Today:

Step Two: Sign Up To Receive Free Bonus:

Become An Award Winning Company
Imagine possessing the knowledge and ability to unlock a secret so powerful that it literally brings your business tens to hundreds of thousands, even millions more dollars in revenue and profit. Imagine no more because Matt Shoup's Become An Award Winning Company does just that.