Matt's Leadership Library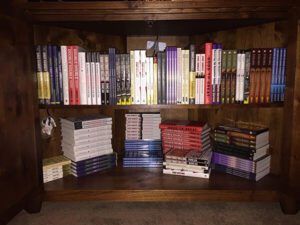 Over my lifetime, I have learned a lot about entrepreneurship, leadership, sales, and money. I know I still have much to learn, and because of that, I am always reading.  Many of my coaching clients, entrepreneurs and leaders I know ask me, "what are some good books to read?"
Here are the top picks I always share.  These books sit today in my leadership library, and are a fundamental training tool/resource reading for all MattShoup.com and M & E Painting team members.
I am always updating my library as well as this page.  If you are an author, or know of any author's books that should be in my library,  please reach out to me to let me know about it.
Many authors have offered to send me FREE signed copies so that I may share one with you!
Leadership/Entrepreneurship/Winning in Business
Finance and Money

Total Money Makeover by Dave Ramsey literally saved me financially.  I read this book in 2007, as I was climbing my way out of six figures of debt and beginning to make it financially.  If it were not for this book, I would have become a financial train wreck.
Profit First by Mike Michalowicz helped me shift my entrepreneurial mindset to stop taking leftovers as profit and pay myself what I was worth first.
The Richest Man in Babylon

Sales/Marketing/PR
Marriage, Faith and Relationship
**Full Disclosure: I receive no royalties, kickbacks, or compensation for any of these books donated to my library (except for Become an Award Winning Company).**