Nice To Meet You
Family Matt
Family comes first in my life.  I fell in love with and married my college sweetheart, Emily, while we were both attending CSU. We met salsa dancing during the fall of 2002, and I immediately fell in love with her; she took a little longer to fall in love back.  We married in August of 2004, and have two beautiful children, Riley, age 9, Hailey, age 6, and a giant schnoodle puppy, Romeo, age 6 months. We enjoy spending lots of quality family time together.  The kids are both active in sports, and we love to travel together as a family. We spent the summer of 2016 living in Alicante, Spain, and while there, traveled roughly 8,000 miles in our vehicle throughout the country.  Running of the Bulls was one of our favorites.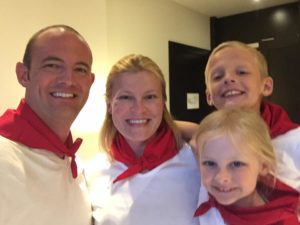 Business Matt
I have been an entrepreneur my entire life.  I was in trouble a lot at school growing up, and always was told to sit down and shut up. I learned at a young age that I was blessed gift of gab and sales and marketing, as well as the gift to make lots of money doing it! During elementary and middle school I shoveled snow, mowed lawns, and peddled candy.  In high school and college I worked a few hourly jobs where I learned that I knew how to work really hard, and reconfirmed to myself that I was not cut out to work for others. I graduated Colorado State University in 2003, where I worked with a college painting company during my four summers there. After graduating CSU, I made the poor decision to go work for a bank as a mortgage loan officer. In March of 2005, I was fired from that job. That day was the best worst day of my life. At that time, I was $172,000 in debt, so I took the last $100 I had to my name and founded M & E Painting.  In a few short years, M & E Painting grew to a multimillion-dollar company and local success story in Northern Colorado.  Both myself and M & E have been featured in
local and national media
 and have won some
really cool awards
! To date, we have painted over 7,000 homes and generated around $25 million in revenue. In 2009, I founded MattShoup.com. My vision is simple: I have the privilege of hanging out with really amazing entrepreneurs all day while talking about how to make their business and over all life a phenomenal one by offering them one on one coaching, speaking, events, and books. Business and entrepreneurship has blessed me and my family with all we need and want, and had created a lifestyle we enjoy.  My drive behind continuing to grow in business is to support my family as well as support others with what we have been blessed with.
Spain Matt
I am a Spain enthusiast and have the tattoo to prove it. While attending CSU, I decided to take the spring semester of my junior year and study abroad in Alcalá de Henares, Spain. I fell completely in love with Spain's culture, people, history, language, and the food. My study abroad experience changed my life in many ways, and gave me tools and skill sets I still use and am thankful for to this day.  In 2007, I founded the Matthew Shoup Spain Study Abroad Scholarship Endowment at CSU.  To date, we have helped send 11 students to Spain to study abroad! We continue to grow the scholarship and have big goals for it by the end of 2020. I can often be found drinking a café con leche (Spanish coffee) as well as perfecting my Spanish paella cooking skills.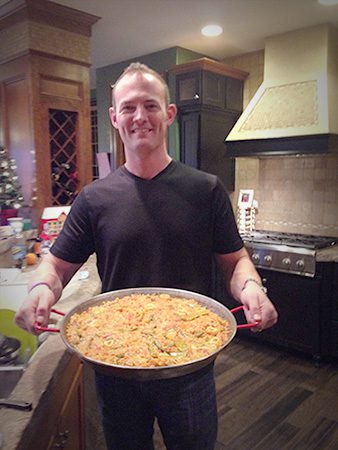 Jiu Jitsu Matt
In 2007, I was humbly introduced to the art of Brazilian Jiu Jitsu. I assumed my big strong weight lifting muscles would serve me well as I stepped onto the mats. I was quickly mistaken as a youngster half my age and size had me quickly "tapping out" (aka crying uncle and giving up).  I have been hooked on Jiu Jitsu ever since. I have been training for close to 12 years, and currently hold my brown belt under Master Rigan Machado. I am the co founder of
Northern Colorado Jiu Jitsu
and the lead instructor of our children's and law enforcement jiu jitsu program.