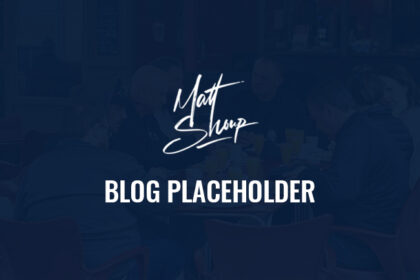 What do you want your company to be remembered for?
What you do doesn't matter. My painting company just happens to paint. Painting is not the main focus of why we do what we do. M & E Painting is a leadership company with a passion to inspire and encourage entrepreneurship as well as shine a light of leadership and positivity to our community. We are here to lead others to discover and leave an intentional impact on others around them. While doing this, we will happen to paint a bunch of homes and serve our hearts out to our customers. Now of course we need to do a phenomenal paint job. Our customers will not hire us, love us, or refer us if we do not do an excellent job at the service. We want to be remembered for something more than just our paint job. We want to be remembered by the impact we left on our customers, team and community. We want to be remembered for the experience we gave another person.
Too many companies and entrepreneurs focus on what they do. They are very concerned about selling, promoting and working on the Xs and Os of the business. They are constantly working on systems, processes and implementing them with their people. Although this is very important, this cannot be done with out focusing on the bigger picture. I have become very good at the Xs and Os over the years. It wasn't until a few years ago that I started thinking about the purpose of our company, our vision, our credo and how we really defined ourselves. What do you want to be remembered for? What do you want your company to be remembered for? Is your language, copy, energy and action in your business focused on what you do and how you do it? OR is it focused on WHY you do it? Check out this video of Simon Sinek delivering his internationally viral talk "Start With Why".
So, I ask again, what do you want to be remembered for? What does your company want to be remembered for? What kind of impact do you want to make through what you do? The only way to do this is to know WHY you are doing it. One step further than knowing your why is to define yourself. What do you 100% believe to be absolutely certain about who you are? What naturally flows out of your DNA? What can you confidently stand up and declare to the world about who you are by saying, "I AM ___________"? Your business is just an extension of you. If you know who you are and what you stand for, then you will know the same about your business. Here is a short video of a concept I created called the Circle of Impact. It explains more about this concept. Watch the Circle of Impact video!