I remember the first day I started my company.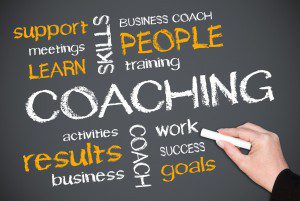 I was overwhelmed and overflowing with excitement.  I was making the leap into 100% self sufficiency, business ownership and paving the way for my own future.  Then I realized; I needed help.  I did not know everything like I thought I did, heck, I did not even know some of the basics.  Business was keeping me busy; as well as stressing me out.  There was so much to do, so much to learn, and I was being buried alive in my new found freedom.  I remember points during my new business journey where I was ready to scream!  As I spoke to and spent time with other entrepreneurs, small business owners and executives, one thing became clear.  I needed a business coach.
I hear entrepreneurs and small business owners tell me all the time, "I don't need a coach, I got this".  They also say things like, "I am too busy for a coach" or "I don't have the money to spend on a coach." My answer is always the same when I say, "my point exactly."  A coach is the person who will make you better so you are not too busy to get better, and not so broke you can not afford a coach.  These excuses are the exact results you produce by not getting a coach.
In business, there is competition.  Whether you know it or not, there are others trying to win.  Others are trying to beat you.  Others want to not just beat you they want to crush you.  These others are highly trained, highly skilled and some will be ruthless in their pursuit of business and entrepreneurial success.  Know this as you step out onto the field and into business battle.  If you show up unprepared, you will be slaughtered.
Here are a few tips as you search for, interview and then hire a business coach.
Be clear on what constitutes success when hiring a coach. Before you start searching for and interviewing a coach, know what your outcomes are.  If you are clear on a vision of where you want to be, and have clear objectives, you will have clear questions to ask when you interview a coach.  This will make your interviews more effective and answer what you are looking for.
Has your coach ever played? – Once you know what you are looking for make sure your coach can deliver. I am shocked and surprised at the number of people that are "business coaches", "executive coaches", and "entrepreneur coaches", and they have never run or operated a business.  Or, if they have, it has been far from successful.   If you are looking to grow a multi-million dollar company and brand, look for a coach who has done the same.  If you are looking to grow a business that runs without you, hire a coach who has done the same (check out an article I wrote about this in INC).
Can they teach and train you what they know? – You know your outcomes and have found somebody who has produced these outcomes. None of that is important unless he or she can pass this knowledge to you.  Make sure as you interview and speak to a coach that they can effectively pass the knowledge to you so you can retain and apply it.  Look for testimonials and examples like this one.  Make sure they have a proven track record of successfully passing this knowledge to you and your company.
You should get 10 times the value– As a coach, I make sure I deliver 10 times the value of what my customer is paying. Working with a business coach is a huge investment, so make sure if you make a $1,000 investment that you get minimum $10,000 return.  Do not worry so much about what you pay the coach, but that you are getting real value.
You get what you pay for– A coach that can take your business to the next level can cost anywhere from hundreds to thousands per hour. Again, make sure you get huge return.  Remember that coaches know what they are worth and will charge accordingly.  Do not short change yourself here.  A coach that does not charge a lot of money will not offer as much value compared to one who charges more.
I hope this answers some of your questions about what to look for when hiring a business coach.  Please feel free to comment and post here if you have any more questions, or need any feedback.
If you want to learn more about tips like these click on the button below.