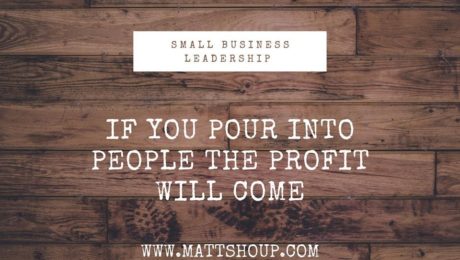 A question I receive often from many small business leaders is this: Which is the MOST important when it comes to growing and leading a small business, people or profit? The reality of this question is you cannot have one without the other.
A small business does not operate without people, period. People play the part of representing your company, your brand, and your promise. People interface with clients, vendors and the community you serve. A company is nothing more than people serving people. Through this service and interaction, participants leave a mark on each other's stories and paths. People invest themselves and pour into your company, your clients and the community, which will in turn produce profit.
Profit is the lifeblood of a company; a fuel that propels your company forward. Profit creates runway for your business vehicle to travel down. Run out of runway and your vehicle crashes. Profit must be retained and guarded with ultimate concern, as this profit pours into your bank account as well as the bank accounts of the people who ultimately helped produce it.
So, which of the two is the MOST important? Which of the two do you ultimately pour into and invest in growing?
People, hands down.
I spent the first decade of my entrepreneurial journey focusing on and ultimately placing the most importance in profit, and as a result, I was very profitable. I climbed a mountain of financial success very quickly, achieving the goal of becoming a millionaire before the age of 30.
However, the celebration was not so sweet. When I arrived to the top of my million-dollar mountain, I realized I did not elevate, inspire or lead the people who helped me get to the top. I did not focus on people like I should have because I did not know how; I was never given a blueprint. At this point, I had two options. Keep climbing, alone or come back down the mountain, and face my people. It would have been much easier to keep climbing along the path I knew, but something inside of me knew this was not the right thing to do.
When I came back down the mountain, I committed to getting a PHD in people. Before doing so, I had to face the fact that some of the people who had helped me were gone. They were no longer there, nor willing to come back. Some bridges were burned.
Moving forward, I learned everything I could about leadership, team building, and understanding humans and what makes them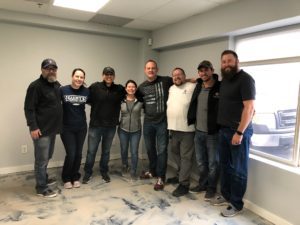 operate at their core. I invested in and poured into people with every resource I had both personally and professionally, and I am so glad I did! Today, I see a bigger mountain and a bigger climb ahead. I have bigger dreams, aspirations, and goals to accomplish.
There is now one thing very different about my dreams, goals, and aspirations. They are not MINE, they are OURS. We are now climbing. We are now trekking. We are now pursuing OUR dreams, OUR goals, and OUR aspirations together.
If you focus on the people the profit will come. If you focus on the profit, the people will run.
Wednesday, 17 February 2016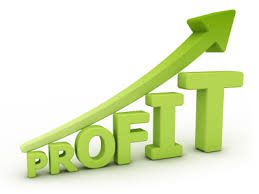 One of the characteristics of a successful entrepreneur is they consistently make profit.  Along with making a profit, they consistently keep and reinvest their profits to win financially.  Last week, I wrote about how to be more profitable as an entrepreneur and discussed three key things relating to being more profitable.
One thing I failed to cover was this; profit is not just about money.  Most entrepreneurs say and hear the world profit, and immediately think money.  Money in (sales and revenue) minus money out (costs and expenses), equals your profit.  This is typically measured in currency.
Profit is so much more than just currency.  In life, leadership, business, and humans working together under a common goal and vision, things are exchanged all the time.  Money is one, so are emotions, action, and energy. In any exchange, a tank, bucket, account, or domain of life is filled (sales and revenue) and is also expended (costs and expenses).  What is left is the profit.
How profitable are you?  How much is left? How much is left financially? How much is left emotionally? How much is left spiritually? How much is left of your accounts, buckets and domains of life?
How much are you holding onto, reinvesting and growing in these domains to consistently win in life and business?
My good friend Mike Michalowicz would smack me around for asking why your profit and our profit is a leftover.  Click here to watch him on the Ted stage sharing why your profit formula is broken and how to fix it.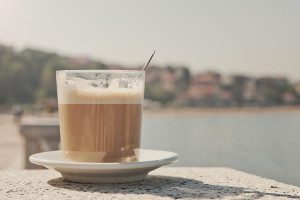 To get caffeinated with me on a weekly basis, click the coffee cup to the right.  When you do so, I will send you some free business building tools to inspire and ignite you to own and run your organization with excellence.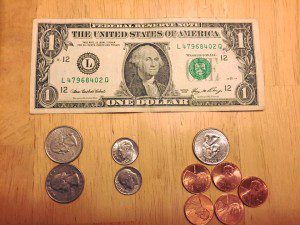 One crucial outcome for every entrepreneur is to make a profit.  Every time I coach an entrepreneur running a small business, profit is one of the first topics we review and discuss. When discussed, they always ask how to be more profitable.  A business that does not make a consistent profit fails.  I remember just over a decade ago, I was $172,ooo in personal debt when I founded M & E Painting with the last $100 I had to spend.  Over 11 years, our company has become (and still is) one of the fastest growing, best places to work, and most profitable within our industry.  My personal financial snapshot has changed dramatically; one of the key reasons is my desire and intense focus to be profitable.
I have spoken to, coached and mentored entrepreneurs from all different industries.  The ones who really win in business and life have a consistent theme running surrounding profit. Below are some of the themes, habits and observations surrounding small business and entrepreneurial profit success stories. My hope is that you can use them to be more profitable in your company and life.
The way you manage one dollar is the same way you will manage a million dollars.  Entrepreneurs that consistently win with money completely understand the concept of a dollar and manage it at the one dollar level.  A hundred thousand, million or billion dollars is no different than one dollar, it just has more zeros.  Entrepreneurs that win with money make sure they spend less than they make, while being clear on what their keep vs. spend percentages are at the $1 level.  The day I realized this, and received clarity surrounding where my pennies were going, was when I could be clear on and control where my hundreds, thousands and hundred of thousands were going. How do you manage your dollar?  Where are your pennies going?
Entrepreneurs pay themselves first.  I remember hearing about the pay yourself first formula years ago. However, every year I always ran the same broken record and formula: Revenue minus Costs and Expenses equals Profit.  I was taking the leftovers.  When I read the book Profit First by Mike Michalowicz, it changed the way I viewed profit. Mike flips the script of the old broken, generally accepted accounting principal of paying yourself last and eating the scraps that fall from the entrepreneurial table. He encouraged me to pay myself, profit first and let my expense category eat the leftovers.  Now I am full! Do you pay yourself first?  How full are you?
Entrepreneurs that make tons of profit have had a significant experience with money showing them how unimportant it really is.  Profitable entrepreneurs have a story surrounding being impacted so deeply in regards to money that it changed their approach towards it, resulting in making tons more of it.  When their balance sheet changed in the blink of an eye, due to economy or bad money decision, they found where the real capital resided; they began to count and measure their self worth in things other than their net worth.  They realized that human capital, relational capital and their legacy is more valuable than all the money in the world. How important is money to you in relation to your legacy?
I have also experienced this revelation.  I remember hitting the financial goal I had of becoming a millionaire before age 30.  When this happened, I realized how unimportant the millions actually were.  That freedom and peace has allowed me to focus on the things that truly matter in my life and business, which is inspiring and igniting other entrepreneurs to own and run their organizations with excellence.  When I lean into my purpose, the money just happens.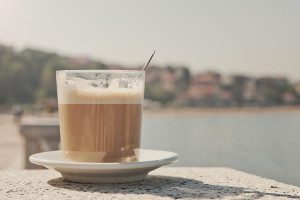 To get caffeinated with me on a weekly basis, be sure to click the coffee cup and subscribe to my newsletter and blog.  When you do, I will share more of my story with you as well as give you some really cool free tools you and other entrepreneurs can use to win in business.